Olev Olesk
3840 Greystone Ave #5K
Riverdale, NY 10463
Tel: 718-884-6631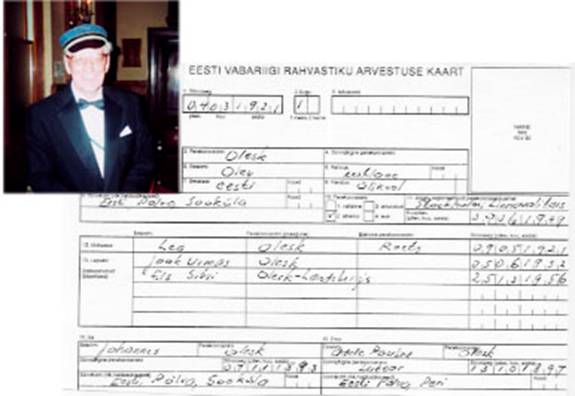 Minu albumit vaadake vajutades siia.
Keith Siilatsi koduleht on siin.
Eesti keelne elulugu on lehe lõpus!
Curriculum vitae
I Personal
I, Olev Olesk, was born on March 4, 1921 in Pölva County, Estonia, where my father Johannes Olesk owned a farm and served as an elected County Chairman.
I am US citizen; am married, and have two grown children.
I am fluent in Estonian, English, Swedish and German.
My health is good, enjoying jogging, tennis, swimming and iceskating.
II Life in Estonia and in Sweden
I graduated from Teachers College in Tartu, Estonia, 1941 and studied law at the University of Tartu until 1944. In September 1944 I fled to Sweden to escape Soviet reoccupation of Estonia.
From 1945 to 1951 I was teacher at the Estonian School in Stockholm. From 1951 to 1956 worked at Svenska Handelsbanken, Stockholm in International Trade Department.
III Employment and education in the US
I have been employed by the following banks in New York City
(1) From 1956 to 1968 Irving Trust, Company (ITC), presently The Bank of New York, in Letter of Credit and Government Financial Transactions (ICA and CCC transactions) departments. At ITC I completed Bank Management Courses by The American Institute for International Banking.
(II) From 1968 to 1973, The Bank of Tokyo Ltd., in the following departments: International Bank to Bank Reimbursements, Letter of Credit and Collections.
(Ill) From 1973 until my retirement 1992, Algemene Bank Nederland N.V. (ABN), presently ABN*AMRO Bank
In 1979, as Manager of Documentary Processing Group consisting of 60 persons, with Department Heads of Letter of Credit, Collection, International Bank to Bank Reimbursements and Loan Administration (including Bankers Acceptances (BA‑s)) reporting to me, I was promoted to Vice President, Documentary Processing.
In June 1989 1 was transferred from Operational Area to Marketing. My duties included expansion of documentary services and particularly of in BA‑finance product within the global ABN network and providing assistance at trade finance training for ABN offices in the US.
I prepared several pamphlets and ABN's global BA‑Product Manual and a booklet on Standby Letters of Credit (standbys/guarantees).
My duties included lectures in ABN Branches in Italy, Spain, France and Sweden. Thereafter I had to accompany their Relationship Manager(s) to branch's client(s) to explain the basis and procedures of US‑based BA‑finance.
For ten years I was the official representative of ABN to the Council on International Banking (CIB) and participated in Council's annual weeklong conferences.
In 1984 and 1985 (apart from my regular job at the bank) I was invited by New York University Graduate School of Business Administration to be a Board Member/Lecturer in their Management Decision Laboratory (MDL), which was designed to train the participating graduate students to operate a simulated company. I became a lecturer in this practical teaching process as one of the members from New York City business community, thus helping to bridge the gap between Academia and Business.
IV Involvements in politics
In Sweden, in 1951, as a representative of Estonian Teachers Union in Exile, I was active in World Federation of Teachers (WFT). At that time the WFT rejected membership applications of the then Soviet Teachers' Union.
1 was member of Swedish Folkpartei (a center/right party) Estonian fraction. In 1956 I attended the World Congress of Liberal International in Paris, as one of the representatives of Folkpartei, there a dubious Soviet "Liberal Party" was seeking membership, which the Congress denied.
In 1956 1 was invited to become a member of the American Academy of Political and Social Sciences.
In March 17, 1986 1 was appointed Minister Without Portfolio in The Government of
the Republic of Estonia in Exile, and on June 20, 1990, was appointed to be The Minister for
Foreign Affairs. On October 7th 1992, after the Estonian Parliamentary Elections under newly
established. Constitution the Government in Exile terminated itself.
During the last two years I have been able to give advice about banking and international trade to the appropriate politicians in Estonia and members of the business community. During my latest visit to Estonia (August 1994) 1 had meetings with the Prime Minister, several MP‑s and leaders of business enterprises.
In May 1994 The Govemor of Bank of Estonia (The Central Bank in Estonia (FED)), the Commercial Counselor at Estonian Embassy, Washington D.C. and I visited two Money Center Banks in New York City negotiating for Estonian banks' opening of US $ accounts with them
to receive BA‑facilities in connection with trade transactions.